Been In An Auto Accident? Go See a Chiropractor
Been In An Auto Accident? Go See a Chiropractor
Written By ABChiropractic Family & Wellness on June 21, 2021
---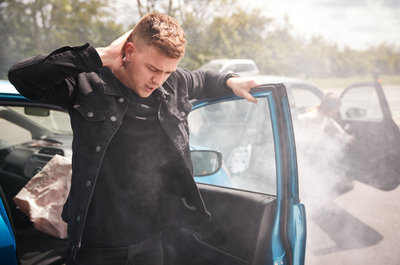 It doesn't matter how small the incident is. You should get seen. Vehicles weigh up to several tons, packing a lot of force when they collide. And while you might feel like you got away unscathed at first, statistics show that injuries can manifest up to months later, setting you up for chronic pain for years if you wait to get treated. The best thing you can do is get seen quickly.
Important Auto Injury Facts
Only need to move at 2mph to sustain whiplash or spinal injury.

15-40% of injured people develop chronic pain.

Two-thirds sustain a whiplash injury.

Whiplash symptoms take up 48 hours to set in.

45-85% of whiplash victims who didn't seek treatment will still be in pain five years later.
What Chiropractic Care Does for Auto Accident Injuries
The whiplash group who doesn't seek treatment put themselves at risk of developing various chronic conditions, including pain, headaches, loss of range of motion, degenerative conditions in the spine, and other spine and disc health problems.
ABChiropractic offers various chiropractic and massage therapies to help protect you from developing chronic conditions. Our methods are non-invasive and drug free. We'll perform a thorough evaluation and gather health history information, and if you have any injuries, we'll discuss your treatment options and guide you through your recovery process. We're deeply experienced in treating various auto injuries, including whiplash, soft tissue, neck, pinched nerves, joint, and spinal injuries.
Chiropractic care can help restore range of motion, ease away triggers causing pain, headaches and other symptoms, relax and rehabilitate neck muscles, and expertly manipulate your spine to put everything back in place, which restores range of motion and allow the body to heal. We also prescribe at-home self care to complete and speed up the recovery process.
ABChiropractic requires ZERO out-of-pocket expense for auto accident victims. We work with insurance companies and can refer you to attorneys. Our documented care is readily available as a resource should you need to take legal action.
Give ABChiropractic Family & Wellness a call at (636) 916-0660 or go online and fill out our contact form.

Posted In: Chiropractic Auto Injury Treatment