Is Your Posture Hurting You?
Is Your Posture Hurting You?
Written By ABChiropractic Family & Wellness on August 26, 2021
---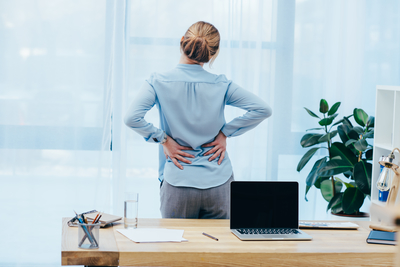 Your posture is the result of your daily life and interactions. Simply put, posture refers to how you hold your body, whether standing, sitting, or walking. And, while the way you sit or walk has a significant impact on your posture, it can also impact your self-esteem and energy level. Proper posture can help you feel more energized, enhance your confidence, relieve neck strain and migraines, prevent back and shoulder problems, and decrease chronic back pain. On the other hand, poor posture can cause insomnia, neck pain, back pain, and a slew of other issues.
How Bad Posture Causes Back Pain
Our head, shoulders, spine, hips, knees, and ankles are all aligned and connected when we stand or move. Poor posture weakens the tissues in your lower back by causing less than ideal distribution of the weight load on your spine. As a result, your back's complex network of muscles, discs, and joints is stretched to its breaking point, ultimately resulting in back pain.
Bad Posture at Work and Home
While most of us enjoy lying on our sofas and beds at home, the way we relax at home can be a significant cause of bad posture. Most of us are guilty of several bad habits at home and work, including:
Sitting or lying down for too long

Slouching or slumping the knee to one side while sitting

Crossing the ankles and feet while sitting or lying down

Straining the neck for long periods while looking at a monitor
Symptoms of Bad Posture
While some of the practices mentioned above may seem relaxing, they are harmful to our posture and health in the long run. Several indicators can help you determine if you have poor posture:
Sagging shoulders

Neck pain

Back pain

Consistent headaches
If you have noticed any of these symptoms, you may be wondering what to do to correct them. Luckily, Drs. Awwad, Faulkner, and Ezell of ABChiropractic Family & Wellness are here to help!
Book an Appointment to get Your Posture Checked in St. Charles, MO
Regular health and posture check-ups have no disadvantages; in fact, regular posture check-ups can help you identify and prevent future problems before they occur. ABChiropractic Family & Wellness has been voted St. Charles' #1 Chiropractor and is here to help you achieve good posture and a healthy lifestyle. Call us today at 636-916-0660 or book your appointment online.

Posted In: Chiropractic Posture